Polyester threads are ideal for almost any application in commercial and home machines. Its superior tensile strength makes it durable and smooth running. Polyester embroidery thread is used for doing embroidery in clothes to fulfill the demands for low cost embroidery work as polyester embroidery thread is priced much lower than viscose embroidery thread which is mainly used in Embroidery works.
Polyester Embroidery Thread is marketed under the Brands 'Bigal & G-4'. Our's product is specially prepared under strict quality control measures to give the consumers a product they always carve for.
The "Bigal & G-4' threads are specially softened and extra lubed to give high efficiency on machines which is possible by reducing frictional effect between the yarn and the needle hence leading to minimum thread breakages. Various Packaging are made as per the consumer requirement
BIGAL / G-4 embroidery yarn is made of the higest quality 100/2 trilobal polyester yarn combined with the able guidance of experienced and technically skilled staff on advanced in-house machinery.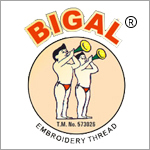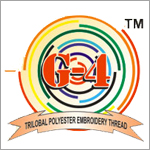 Features of BIGAL / G-4 Trilobal Polyester Thread
Brilliant sheen and lustre with wide range of colous.
Trouble free performance at high speed due to lubricants added with coolants ensuring smooth embroidery & minimum neeedle breaks due to faster heat dissipation.
Computerized colour matching withn state of art software to ensure eompatible reproduction of shades.
Superior filament cohesion ensuring smooth threading of the needle.
Free from AZO group also no environmentally hazardous products are used while dyeing.
Products
Customized packing is Available.
Extreme attetntion is paid while reproducing each shade however it is recommended that same lot of yam be used on one fabric to ensure against any minute difference in embroidery.
All information is provided in this shade card is provied in good faith, but without warranty.
Liabillity is limited to replacement of the quality of unused yarn.